Friends are too few and far between... who's going to let a little distance come between them and what they consider "friends"?
Francesca Penhallow

Frani, Franma, Freska, Francesca, Penhallow Puppy (and the Preztle People)-- whatever you call her, she's still one of the greatest friends I've ever had. Frani and I met during our first semester at Iowa State University, developed a friendship and have continued it even now when she's several hours away...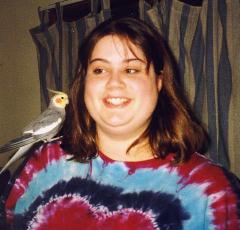 She has been a fantastic and caring friend, as she has always been there to help, or try to help in some instances, and as a good shoulder to cry on.. even when my decisions haven't been.. the most moral.. at times.. heh. O=) It's always been easy to talk to Frani, and I'm sure it always be easy to talk to her. She's stuck behind me through thick and thin, and has remained a friend EVEN WHEN I'm not sure I was such a good friend myself.
From advice to general chats, it's always been insightful to talk with her. She's like a sister to me... =)

Back to my friends page?